Appsumo BL.INK: AppSumo offers most of the useful software tools in deal every week. Using this opportunity any entrepreneur, small organization, and freelancers can develop their business. Likewise, BL.INK is a tool that is in the deal available this week in AppSumo.
BL.INK is a flexible short link management platform that helps you manage, monitor, and measure every click across every channel. It is a link shortening tool which monitors every engagement, protects your data, and helps your audience click with confidence. Thus, BL.INK helps to Track and measure every click and engagement with a dynamic, branded short link solution.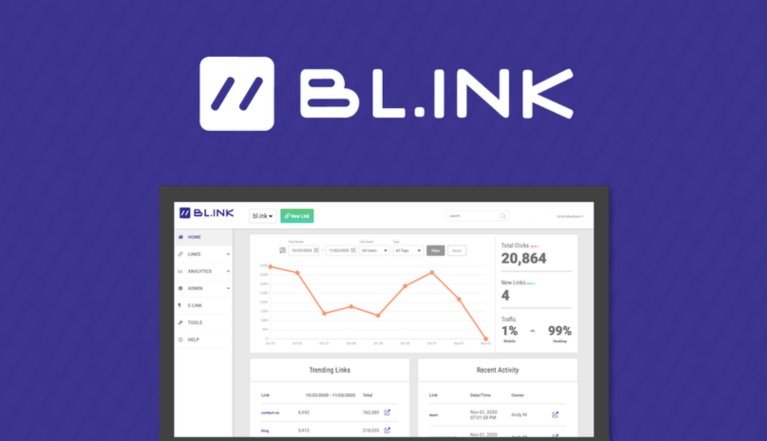 BL.INK lets you securely shorten your links with branded domains and include tracking tags and Google Analytics variables. With BL.INK, every link is completely editable, so you can customize it to your needs.
BL.INK Features
With BL.INK, every aspect of your links are editable, so you can easily change and update your links at any time. You can change destination links, update tracking tags and campaign names, or get notified via email whenever you get clicks. The main features of BL.INK include
Shorten links with a branded domain that builds trust
Edit every aspect of your links and route by day, date, time, geography, device, and language
This tool BL.INK suits best for Marketers, developers, and sales teams who want to track every click and drive more customer engagement. Also, this will be the best alternative tool to bitly and TinyURL.
With BL.INK, you will get Get deep-dive analytics on each link and drill down to get the critical insights you need. You can Use geographic breakdowns and heat maps to track your reach and engagement worldwide. It feed all your metrics into your web analytics platform to get more in-depth insights and filter by day, owner, or tag.
You can collaborate seamlessly with team members across campaigns and monitor collaborators through multiple users, campaigns, and domains. BL.INK makes it easy to import thousands of links for a single campaign or make bulk edits and upload your changes. So that, you can Get an aggregate view of each account and filter clicks based on parameters like time, tags, and location.
BL.INK helps you create painless customer journeys with dynamic link routing and custom rules. It has Route links and mix and match rules to deliver the right message across geography, languages, or devices. Thus, you can Get more out of your links with robust analytics that show real-time insights and engagement over time.
BL.INK Pricing
Thus, the tool BL.INK is your reliable and dynamic short link solution that offers everything you need to maximize customer engagement. The actual price of the tool BL.INK is $708.00, but AppSumo offers it in a deal for low price $59 which will be a lifetime offer for a limited period of time.