AppSumo If-So: AppSumo offers most of the useful software in deal every week. Using this opportunity any entrepreneur, small organization, and freelancers can develop their business. Likewise, If-So Facto is a tool that is in the deal available this week in AppSumo.
If-So is a WordPress plugin that allows you to display dynamic content to users based on their search terms, language, geolocation, and more. This tool delivers dynamic content to visitors based on their characteristics and site interactions.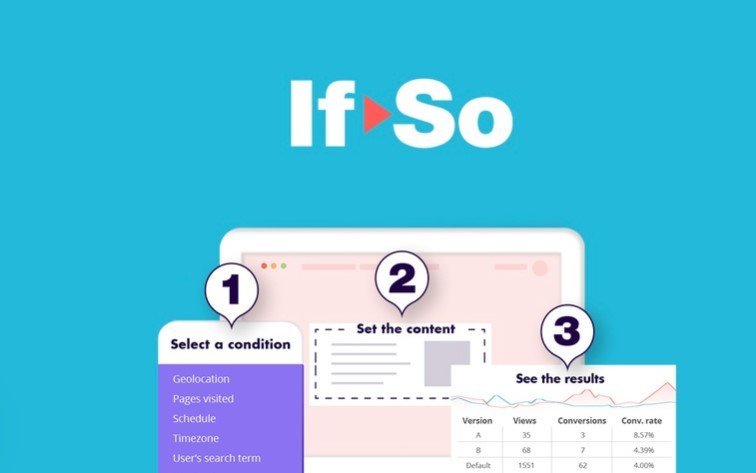 This tool If-So is a WordPress Plugin that helps display dynamic content to site visitors based on "conditions" such as search terms, location, pages visited, or the number of visits. This helps your site visitors will get a personalized, relevant experience, thus improving conversion rates.
If-So Features
With If-so, it is possible to create dynamic calls to action based on the time of day as well as your business hours. You can also divide your users into groups and serve dynamic content to those groups based on their shared characteristics. The main features of If-So include
Personalize content on your site in minutes using any page builder—zero codings needed
Track the dynamic versions of content with built-in statistics
This tool If-So suits best for Digital marketing agencies and site owners looking to deliver dynamic content based on unique visitor characteristics. This will be the alternative to Pardot, ActiveDEMAND.
If-So considers which pages your visitors have already looked at, so you can serve content that's in line with their stage of the buyer's journey. With the Google Ads condition, you can alter your landing page content to the user's search term, creating a coherent experience for potential customers who find you through Google.
If-So Pricing
If-So allows you to add a selection field that allows visitors to choose the most relevant content for them. It has built-in statistics that show the picture of how many times each version was viewed and how many people converted. You can also integrate Google Analytics to track the visibility of each version and segment your reports accordingly.
Thus, If-So is a tool in which you can use to get data-driven answers based on visitors' personal characteristics and interactions with your site. The actual price of If-So is $199.00, but AppSumo offers it in a deal for $49 which will be a lifetime offer for a limited period of time.