AppSumo PhoneWagon: AppSumo offers most of the useful software in deal every week. Using this opportunity any entrepreneur, small organization, and freelancers can develop their business. Likewise, PhoneWagon is a tool that is in the deal available this week in AppSumo.
PhoneWagon is an advanced call tracking tool that lets you set up dynamic numbers, automated text messages, and phone trees. It helps to Set up a cloud-based phone system and track incoming calls from marketing campaigns. It also helps to track inbound calls and find out which of your campaigns are driving the most leads.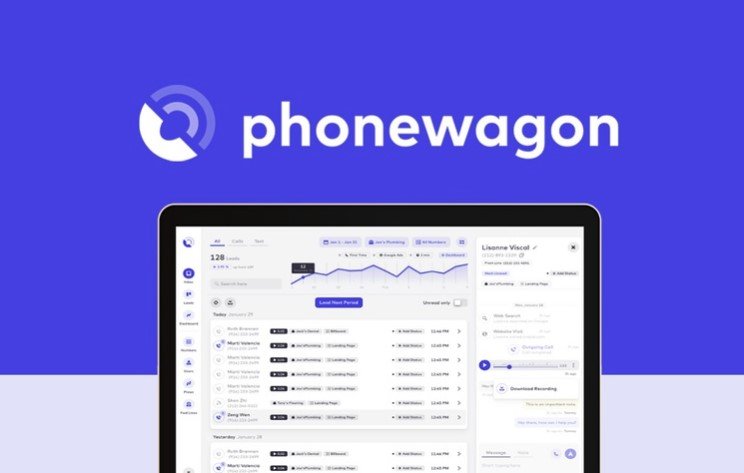 For any business, after getting a new phone number and an area code one can use PhoneWagon which has a dynamic number feature to track inbound calls from any website with only one line of code. This feature keeps the main number on your site unchanged for Google and SEO but changes for customers viewing it depending on your unique parameters.
PhoneWagon Features
With PhoneWagon, you can Set specific numbers for certain campaigns, or show different numbers for different channels or keywords to keep track of everything. makes it a breeze to configure a custom greeting or interactive voice response (IVR)/phone tree. The main features of PhoneWagon include
Set up dynamic numbers and track inbound calls from your site, plus automate text messages to missed calls
Access custom phone greetings, create phone trees, and configure extensions
This tool suits best for Marketing agencies, customer support, and call centers that want to maximize their phone campaigns and outreach. This is the best alternative tool to Call Tracking Metrics, Ringostat.
You can save time with PhoneWagon as the calls will be automatically routed to the correct department, and you'll have a professional call completed in minutes. You can also separate the Leads from the calls. It is possible to record calls in PhoneWagon to collect all the information you need.
PhoneWagon Pricing
PhoneWagon's Inbox also lets you filter through calls by duration, keywords, source, and more which helps you whether it works or not. Thus, PhoneWagon helps you to know where your callers are coming from, what they're saying, and how you can make the whole process as seamless as possible. The actual price of PhoneWagon is $540.00, but AppSumo offers it in a deal for $79 which will be a lifetime offer for a limited period of time.