Appsumo Quickpage: AppSumo offers most of the useful software tools in deal every week. Using this opportunity any entrepreneur, small organization, and freelancers can develop their business. Likewise, Quickpage is a tool that is in the deal available this week in AppSumo.
Quickpage allows you to record and deliver high-resolution videos by email and text while monitoring viewer engagement. It can Easily send high-resolution personalized videos to your leads with a video delivery solution that helps you stand out in the inbox and track your success.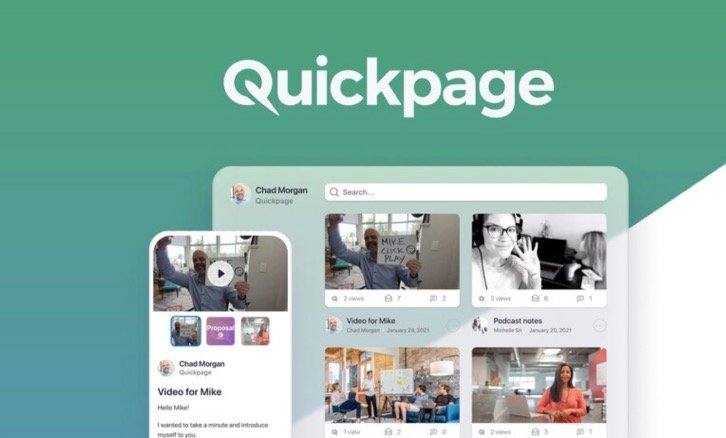 Quickpage makes it easy to record, upload, and send video messages by email or text, letting you quickly gain trust with your audience. You are able to build out an entire slider of content for your prospects, so you can introduce yourself and your services in a genuine and personalized way. It is possible to Record, upload, and attach your personalized video (and more) to an email or text to boost engagement and build trust.
Quickpage Features
Quickpage automatically generates an animated GIF from your video to send to leads and customers via email or text message. This Personalized animated GIFs help increase your clickthrough rates, engagement, and replies by capturing your audience's attention. The main features of Quickpage include
Create and send personalized videos, images, documents, and testimonials via email and text
Develop trackable pages with live notifications to see who's played your video and when
This tool Quickpage suits best for Salespeople and teams looking to boost lead engagement, shorten their sales cycle, and nurture customer relationships. Also, this will be the best alternative tool to Bombbomb and Covideo.
Quickpage allows you to schedule the page to be sent out at any day and time in the future. This tool lets you communicate with your prospects in real-time through built-in live chat on every video page. You can Start a chat with your lead when you see them live on your page. It also tracks all unique chat messages with leads, making it easy to stay in communication with your prospects and keep them engaged.
Quickpage sends a notification the moment your prospect opens and watches your video so that you will be available for questions in live chat. The analytics dashboard also tracks all your email and text opens, showing who opened the page, when, how many times, and how long they viewed it. This will helps you to track activity and engage at the right moment.
With the Quickpage Chrome extension, you can record, upload, and send high resolution video emails right from your Chrome browser or Gmail account. So that you can access your quickpage library of videos and can be sent directly from gmail. It also integrates with some of your other favorite tools like Salesforce, ConvertKit, Zapier, and others.
Quickpage Pricing
Thus, Quickpage is the unique personalized solution that'll change the way you close leads and engage prospects. The actual price of the tool Quickpage is $348.00, but AppSumo offers it in a deal for low price $59 which will be a lifetime offer for a limited period of time.