Appsumo rasa.io: AppSumo offers most of the useful software tools in deal every week. Using this opportunity any entrepreneur, small organization, and freelancers can develop their business. Likewise, rasa.io is a tool that is in the deal available this week in AppSumo.
rasa.io is an email marketing tool that lets you send automated and customized emails to every person on your list. This tool lets you customize the content of every message—for every customer. You can Create, automate, and send customized emails that capture the attention of your subscribers.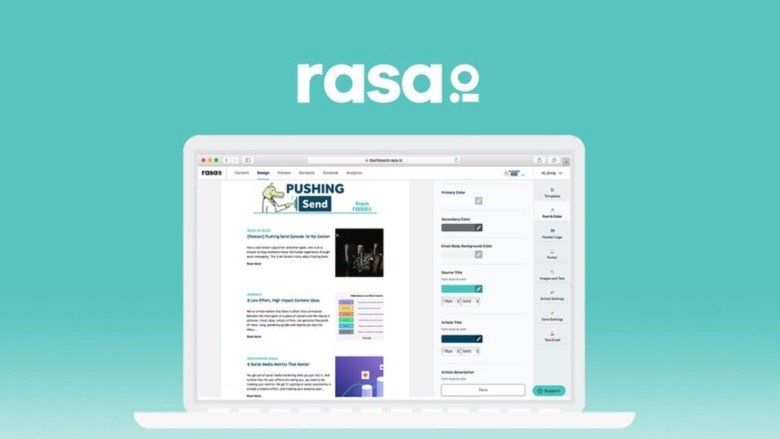 rasa.io helps you create beautiful and effective email newsletters customized for every customer. You'll build trust and value in your brand by delivering relevant content, whether it's written in-house or from another website. With this tool, you can Discover and aggregate content from different sources to target users by their unique interests and behaviors.
rasa.io Features
In this tool rasa.io, you can Use the simple editor to add a custom note inside the newsletter about anything you want from a personal introduction to company updates. You can also Customize your newsletter template with your font and brand colors for a unique customer experience. The main features of the tool rasa.io include
Build authentic customer relationships with AI-curated content
Automate your email marketing and send customized newsletters to everyone on your list
This tool suits best for Email marketers looking to personalize the customer journey, increase brand loyalty, and build value through content. Also, this will be the best alternative tool to Mailchimp, ConstantContact, and Emma.
With this tool, you can Add custom text and images to your newsletter for content that shows off your awesome brand. Also, you can build your emails to fit your branding and style without touching a single line of code. rasa.io also integrates with your favorite tools like Zapier, Salesforce, Mailchimp, HubSpot, and AppSumo favorites like SendFox, Salesflare, and Deskera.
With rasa.io, you can send personalized emails and watch your engagement go up. You'll be able to see open and click rates, top articles, stats, and other key metrics, 24/7 and in real-time. You can also compare data, download reports, and get to know your customers with in-depth insights into each subscriber.
You can personalize the customer journey by segmenting each individual contact based on their interests and prior newsletter behavior with this tool. For that, all you have to do is choose the date, time, and frequency of your emails, then set it and forget it—rasa.io does the rest.
rasa.io Pricing
Therefore, with rasa.io, you can send personalized newsletters, nurture customer relationships, and track performance all in one easy-to-use platform. The actual price of the tool rasa.io is $500.00 but AppSumo offers it in a deal for low price $59 which will be a lifetime offer for a limited period of time.