Appsumo Sendspark: AppSumo offers most of the useful software tools in deal every week. Using this opportunity any entrepreneur, small organization, and freelancers can develop their business. Likewise, Sendspark is a tool that is in the deal available this week in AppSumo.
Sendspark helps you stand out in the inbox with video emails for smarter outreach and clearer communication. You can Build human relationships and accelerate sales with personalized video emails. Thus this tool helps to build genuine connections with your customers or audience.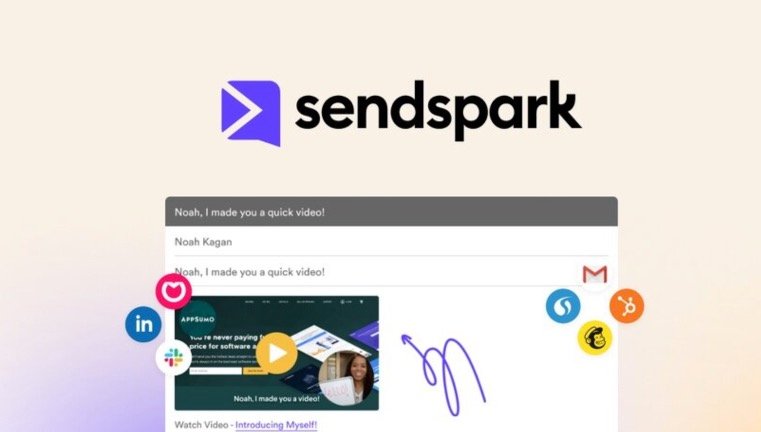 Sendspark makes it easy to create killer email video content that will capture the attention of your leads and encourage them to respond or convert. With the Sendspark Chrome extension, new videos are just one click away with the ability to record videos right from the browser.
Sendspark Features
With Sendspark, you can Record your screen, webcam, or both together as your face appears in a floating bubble over the screen. The main features of Sendspark include
Make personalized video emails from your browser by recording yourself or your screen
Collaborate with your team members and clients in shared video workspaces
This tool Sendspark suits best for Email marketers, sales teams, and agencies who want a personalized way to build relationships with clients. Also, this tool will be the best alternative to Vidyard and Loom.
You can Create customized video landing pages to make the experience more personal and attention-grabbing with this tool Sendspark. You can also share the video in a regular email or message to add a personalized touch that gets you noticed in your customers' inboxes.
You can Personalize video thumbnails with the recipient's name and logo to capture their attention. Also, You can use these personalized videos for account-based marketing, sales, and onboarding to book more calls and retain more customers.
Sendspark lets you to Create collaborative workspaces where you can work with your team and clients to create video content and send it on their behalf. If you're working for a marketing agency that uses Sendspark to help clients grow its business, you can even manage videos on behalf of your clients.
Sendspark Pricing
One can Request videos from anyone—marketing clients, customers, or team members and can collect and gather it together to send out in emails with the help of this tool. Thus, Sendspark makes it easy for you to stand out in your customer's inbox with video emails that offer a personalized touch. The actual price of the tool Sendspark is $432.00, but AppSumo offers it in a deal for low price $39 which will be a lifetime offer for a limited period of time.