Bigg Boss Tamil: On the day of 35 after the 5th week of Bigg Boss, Bindhu Madhavi entered the Bigg Boss House as the new contestants in the wild card as there was no eviction in that week. She watched the show as a viewer before and decided to take part in the house. When she came inside she spoke to the Host Kamal Hassan as every contestant speaks. She said that Oviya will be the big competitor for her in the house.
On the day she entered, she has to assign the various tasks for the housemates such as making tea for her, dance competition and many. The losers are to be pulled down to the swimming pool in the garden area and she makes the fun over there. There by she mingles with the family members.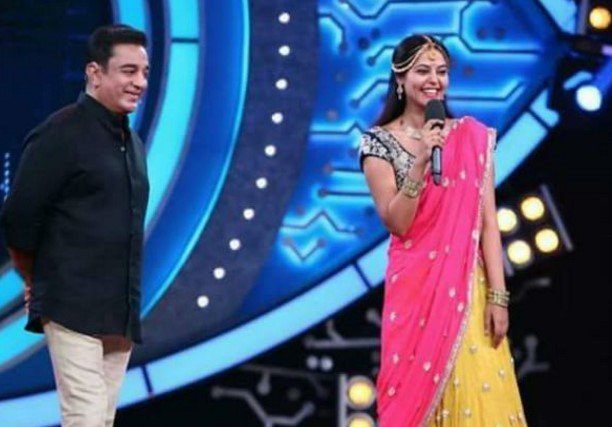 The next day, there occurs the nomination process. This week the Bigg Boss nominees for the week 6 are Oviya with highest of 7 votes, next is Julie and the other is Vaiyapuri. Oviya is nominated in all the weeks but she is saved every week by her fans for her strong hearted and for her boldness.
This is the fourth time that Oviya is being nominated in the show. Both Aarav and Oviya are against each other and they nominate each other for elimination. After the nomination, the Bigg Boss conducted the task that considering Bigg Boss house as a Mental Hospital and have to choose, whom to give a sudden Shock Treatment, Whom to give more dosage form and Who will go out from the house after the treatment.
In that everyone makes the fun. Shakthi says that Bidhu Madhavi should be shock treated as she has to get mingled with everyone with the housemates. Every contestant in the house has to choose three persons in the house and should give what to treat them.
Stay tuned for more updates on Bigg Boss Tamil and elimination result of the week 6 on this website.