Bitcoin God (GOD) Price: Today the crypto market has been started with a few crash as top coins and Bitcoin has shown decline in their price. The price of Bitcoin today is $56.3k. However, some altcoins have increase in their price. In such a way, Bitcoin God which is represented as GOD has raised their price by more than 1220% in less than 24 hours.
Bitcoin God price today is $11.66 with a 24-hour trading volume of $1,724,246. GOD price is up 1137.9% in the last 24 hours. It has a circulating supply of 0 GOD coins and a max supply of 21 Million. AEX is the current most active market trading it. Currently, the market cap rank for Bitcoin God (GOD) is still not available.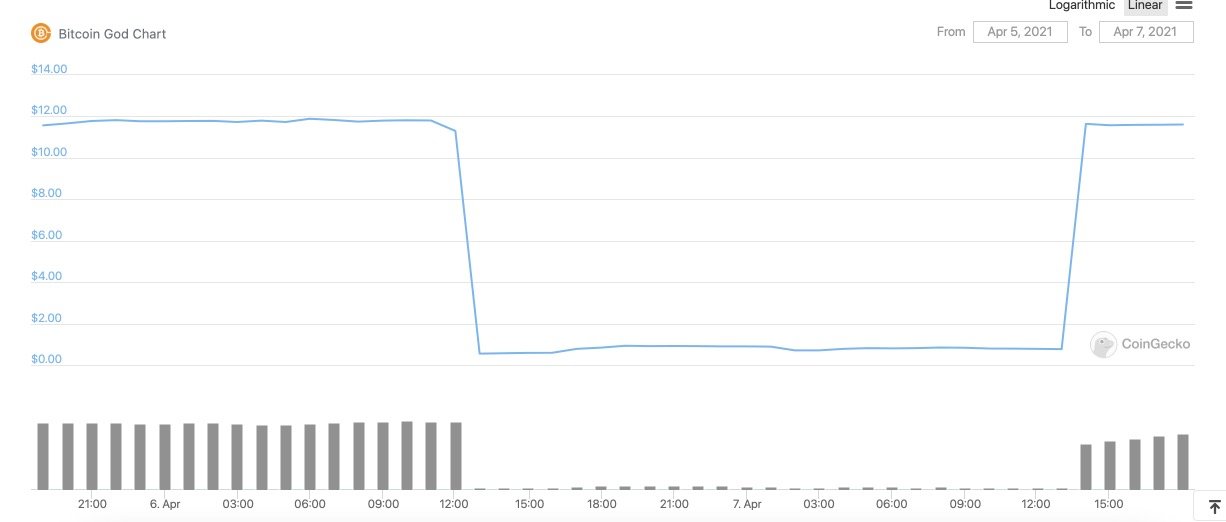 Where to Buy Bitcoin God (GOD) Crypto?
Bitcoin God (GOD) can be bought and sold in various exchange sites such as AEX, HotBit, Gate.io, and YoBit with the exchange of BTC, USDT, ETH, WAVES, RUR, and USD. The price of Bitcoin God (GOD) can be checked on the link Bitcoin God (GOD) Price Chart.
About Bitcoin God (GOD)
Bitcoin God is a borderless non-profit peer-to-peer organization. Our vision is to leverage a decentralized platform to solve the many problems created by existing centralized system. Bitcoin God as a blockchain based network will enable tracking of each ledger transaction in a transparent and clear fashion. The token holders of Bitcoin God can pinpoint whoever they are trying to help via our peer-to-peer blockchain accurately.