Appsumo Enerpize Review & Price: AppSumo offers most of the useful software tools in deal every week. Using this opportunity any entrepreneur, small organization, and freelancers can develop their business. Likewise, Enerpize is a tool that is in the deal available this week in AppSumo.
Enerpize is the all-in-one, cloud-based, industry-custom solution that lets you manage your finances, accounting, sales, inventory, client relations, employees, operations, and more. This tool Enerpize can Manage every aspect of your business from sales to HR to inventory through one cloud-based platform.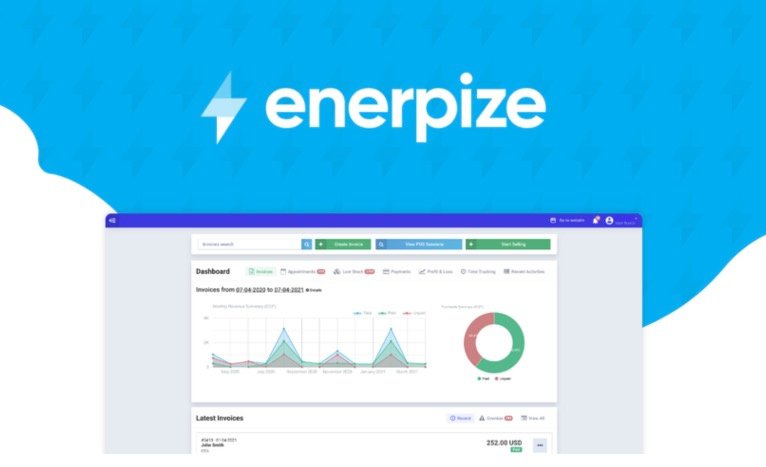 The platform offers six main modules: sales, accounting, client relations, inventory, HR, and operations, along with handy sub-modules for each. With the app manager, you can enable or disable modules and sub-modules according to your business needs. Enerpize also lets you create customized templates using a variety of visual designs for customer emails, invoices, and estimates.
Enerpize Features
Designed and developed for entrepreneurs and small and midsize businesses (SMBs), Enerpize lets you manage all aspects of your business from one place. The main features of the tool Enerpize include
Manage all your business needs using one cloud-based solution
Access six fully integrated modules to accelerate your workflow: sales, accounting, CRM, operations, HR, and inventory
This tool Enerpize suits best for Business owners, sales teams, team leads, and operations managers looking to optimize their business management. Also, this will be the best alternative tool to QuickBooks and Odoo.
Enerpize lets you track work orders, assign tasks to your team, and schedule appointments and actions. You can use the Booking Management feature to convert your bookings and appointments to invoices with a single click. Enerpize lets you select your industry to find a business-tailored solution for your niche.
You can quickly manage and track sales, bills, invoices, estimates, payments, customers, sales reports, and insurance in the same place. You can Load preset data into any invoice you create and easily send it to a client. Enerpize helps you track your earnings with profit-and-loss reports.
Enerpize lets you monitor your Salesforce performance via your sales dashboard, so you can easily identify your team's MVP. You can easily Track what you earn and spend using Enerpize's Reports feature. With Enerpize's CRM system, you can track your client's timeline, including all actions taken by your staff with that client. You can also Streamline your accounting for recurring expenses on a daily, weekly, or monthly schedule.
Also Read: Social Champ Price, Review & Check Appsumo Lifetime Deals
Enerpize Pricing
Thus the tool Enerpize helps you manage all your business needs from one place, so you can focus your energy on what you do best: growing your company. The actual price of the tool Enerpize is $380.00 but AppSumo offers it in a deal for low price $49 which will be a lifetime offer for a limited period of time.