Appsumo Rollcall Review & Price: AppSumo offers most of the useful software tools in deal every week. Using this opportunity any entrepreneur, small organization, and freelancers can develop their business. Likewise, Rollcall is a tool that is in the deal available this week in AppSumo.
Rollcall is an asynchronous standup meeting tool that helps remote teams work better together with built-in scheduling and integrations with your tech stack. With this tool, you can  Simplify remote teamwork and collaboration with asynchronous recorded standups.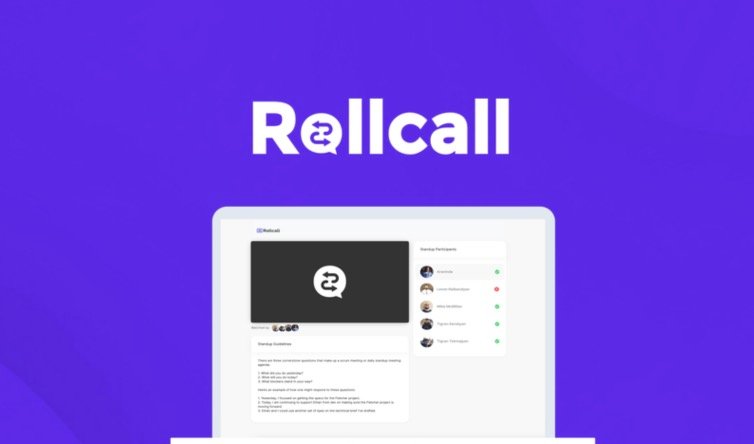 With Rollcall, you can schedule pre-recorded asynchronous standups with audio, video, text, or screenshare capabilities. Instead of joining a live meeting, each member of your team can record their update and post it to the standup. You can Configure meetings to fit your team's availability, time zone, and share recordings with the right people.
Rollcall Features
With Rollcall, you can organize remote, recorded meetings with teammates in any timezone, so no one misses an update. Schedule new standups, view recorded standups, and access team participation data in your dashboard. The main features of the tool Rollcall include
Create pre-recorded asynchronous audio, video, text, and screenshare updates
Get work done more efficiently with Slack, Jira, and GitHub integrations
This tool Rollcall suits best for Remote or hybrid-remote teams that want to boost productivity and stay connected, with fewer calls in between. Also, this will be the best alternative tool to Geekbot.
Rollcall combines the standup and posts to your channel, so you can share crucial info without dealing with delays or internet issues. You can simply create a standup and select a submission window for your team to submit their update. You can View the concatenated meeting once all your attendees have submitted their update.
Rollcall lets you schedule a meeting timeframe to make coordinating with team members around the world. Rollcall acts as your personal meeting assistant to remind your teams of scheduled meetings, so they can record and share their updates. You can Track attendance, engagement, and trends for your meeting in your Rollcall History.
Rollcall Pricing
Thus, with the tool Rollcall, you can have back-to-back video meetings to the curb and keep your team connected the smart way. The actual price of the tool Rollcall is $240.00 but AppSumo offers it in a deal for low price $49 which will be a lifetime offer for a limited period of time.