Every day the QuizTime (contest) is brought and made available by to the customers by Amazon Seller Services Private Limited. This contest will commence on 21st November 2018 from 8:00 AM to 12 PM. In order to participate in the quiz, one must sign in their Amazon account through the app.
There are a total of five Prizes that will be given under the contest. The Prize will be delivered to the winner on or before 30th December 2018. Amazon offers various products for the customers in the cheap price and high quality.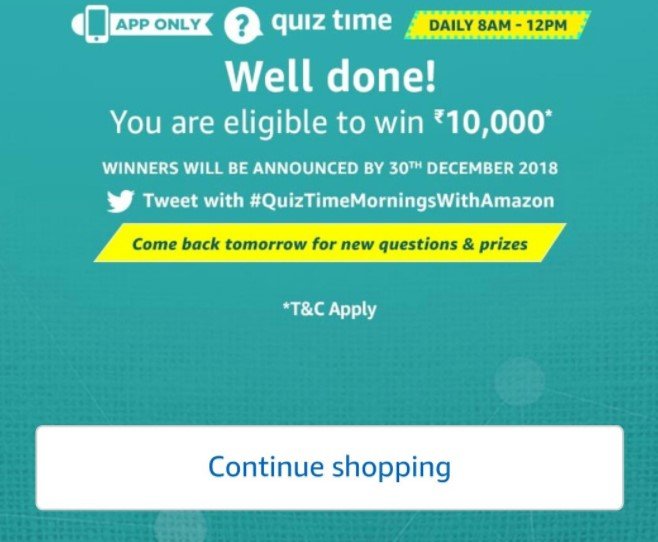 Amazon Quiz Price Rs.10,000
Which of these countries does NOT have a standing army?
Ans: Iceland
2. What is the name of the largest dwarf planet in our solar system?
Ans: Pluto
3. In terms of the area which is the smallest continent?
Ans: Australia
4. What is the national currency of Albania?
Ans: Lek
5. The folk music of 'Lavani' is associated with which state?
Ans: Maharashtra
How to Play?
Sign in to the Amazon App
There will be a total of five questions
Answer all the questions correctly to enter the lucky draw.
By the quiz today (21st November), the winners are eligible to win Rs.10,000. The winners' list will be announced on or before December 30. Stay tuned for more updates on Amazon Quiz.