Bigg Boss Tamil: Bigg Boss is the only show where people talk about when they meet their friends and family in any get-together. Initially, it went well but eviction of Barani make the audience to think that the people inside the house are heartless. Followed by Oviya who was mentally stressed inside the house because of housemates and especially by Aarav whom she had love with. The actions of Aarav towards her make her fall in love but he doesn't. This makes her more stress and tried for suicide and finally, she was out of the show.
After Oviya's elimination, Raiza was the one who first felt bad as she was misbehaved with her and don't even consider her as a human inside the house. This made her more guilt and also felt the same for Barani. She apologised for such a rude behaviour towards them. In this, she was admired by the audience recently after Oviya went out of the house. There after many misunderstandings between Gayathri and Raiza arise. Snegan and Raiza on one side and Gayathri and Sakthi on the other side.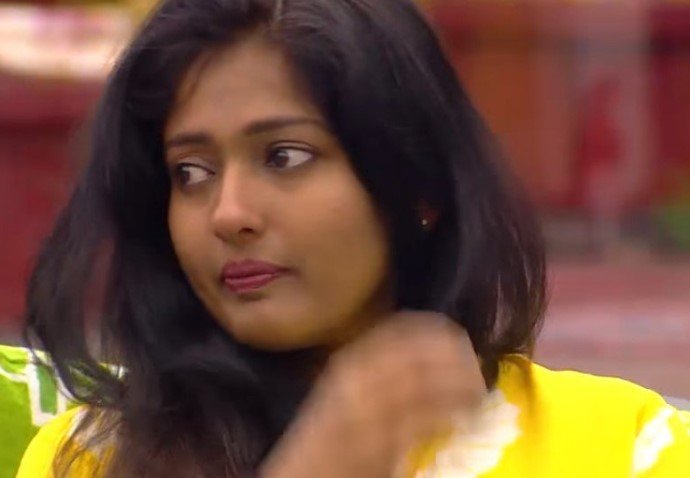 Last week Sakthi got eliminated from which Gayathri was more suffered as she doesn't find anyon e to support her. There Aarav and Ganesh consoled her. Raiza was happy as the people voted correctly. Every the eviction nomination will be conducted in confession room where no one knows who nominates whom. But this week Bigg Boss conducted the open nomination where Gayathri and Raiza got more votes from the housemates and they were in the nomination now. The Bigg Boss vote begins to save your favourite star in the Bigg Boss House.
According to the prediction, Gayathri was almost hated by the audience and she was the given chance as if she is on the nomination list last week, she would be eliminated last week itself. When she answered the Bigg Boss in the confession room correctly, she was saved from last week eviction But this week it seems that Gayathri who has shown over attitude and used Bad words in the house will be out of the Bigg Boss house. Coming to Raiza, even though she showed her attitude but it seems to be good and in the correct way. After Oviya's eviction, she fills the space of correctness in the house. Hence it is expected that Raiza will be saved and Gayathri will be eliminated this week.