KTG vs MHU: The second qualifier match of Dhangadi Premier League at Dhangadi is between Kathmandu Goldens and Mahendranagar United which is scheduled today. The match will start at 12:15 PM IST on 22nd February 2019. The venue of the match is at Fapla International Cricket Ground, Dhangadi.
In the previous head to head records between these two sides, Kathmandu Goldens has won against Mahendranagar United. The winner of this match will play finals against CYC Attariya. Hence in this match KTG vs MHU, it is predicted that Kathmandu Goldens will win against Mahendranagar United.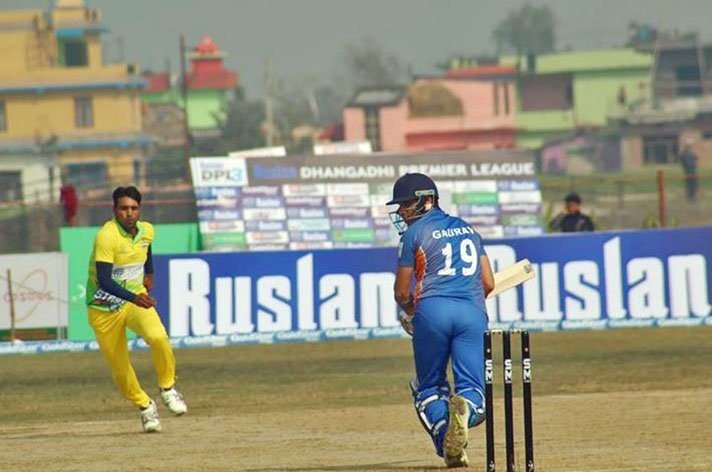 KTG vs MHU Playing XI
Kathmandu Goldens Playing XI: Anil Kumar Sah, Gyanendra Malla, Gaurav Tomar, M Alam, BK Bhusal, A Dabas, Y Singh Karki, Rashaid Khan, Lalit Rajbanshi, NK Yadav, Surya Tamang
Mahendranagar United Playing XI: D Nath, S Vesawkar, S Anand, Aarif Sheikh, RK Paudel, Mohammad Naveed, A Bohara, Shahab Alam, S Dhakal, AS Routela, S Lohani
KTG vs MHU Team Squads
Kathmandu Goldens Team: Anil Kumar Sah, Ankit Dabas, Avinav Yadav, Bikram Thagunna, Bikram Kumar Bhusal, Gaurav Tomar, Gyanendra Malla, Lalit Narayan Rajbanshi, Mahaboob Alam, Nanadan Yadav, Rasid Khan, Sonu Tamang, Yogendra Karki, Sudhir Chaudhary, Surya Tamang.
Mahendranagar United Team:  Sharad Vesawkar, Siddhant Lohani, Amar Singh Routela, Dilip Nath, Sagar Dhakal, Avinash Bohara, Deependra Chand, Kushal Malla, Md. Arif Sheikh, Rohit Kumar Paudel, Santosh Bhatta, Shahab Alam, Mohammad Naveed, Sushil Khadka and S Anand