Appsumo SalesBlink Review & Price: AppSumo offers most of the useful software tools in deal every week. Using this opportunity any entrepreneur, small organization, and freelancers can develop their business. Likewise, SalesBlink is a tool that is in the deal available this week in AppSumo.
SalesBlink is a digital platform designed to automate outreach and connect you to the right people for the most productive leads. You can close deals through multi-channel campaign planning, and maybe even take home a Best in Sales award of your own. This tool helps to Close deals at lightning-fast speed by finding professional emails, enriching domain data, and automating cold outreach.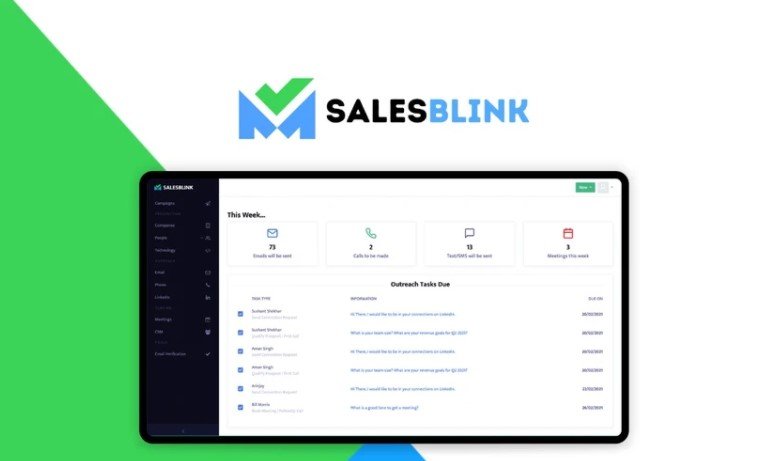 SalesBlink's platform allows you to find prospects, create outreach campaigns, import custom data, book meetings, and manage prospects with the built-in CRM for automated, successful sales conversations. You can tailor campaigns to your business' sales needs and virtually plan various outreach methods and time frames for calling, emailing, and more.
SalesBlink Features
With this tool SalesBlink, you can use company domain knowledge to discover site social media handles on LinkedIn, Twitter, and any other relevant platforms. The main features of the tool SalesBlink include
Connect with the right leads every time for better prospecting, outreach, and conversions
Find professional emails from site domains and automate cold outreach to save time
This tool Appsumo SalesBlink suits best for Sales teams looking for an easier way to find and convert new leads with automated outreach. Also this will be the best alternative tool to Hunter.io and Apollo.io.
You can Search lead prospects from around the globe using industry- and location-specific filters. SalesBlink lets you run concurrent campaigns using the drop-down selection to switch between organized plans for limitless ongoing projects. The customer relationship management tools give you the ability to supervise leads, replies, and opportunities.
SalesBlink lets you add information about cold calls and their outcomes to update outreach tasks for synchronous status and data sharing to keep you organized. You can keep your campaign on track by scheduling specific dates and monitoring completed tasks from your dashboard.
With SalesBlink, you get a shareable appointment booking link, so that you can focus on what matters. You can Connect your Google calendar to schedule meetings with prospective leads within set working hours. You can also Draft personalized pitches using SalesBlink's image personalization tool.
Also Read: Appsumo Agiled Price, Review & Check Appsumo Lifetime Deals
SalesBlink Pricing
Thus, the tool SalesBlink makes converting leads simple, providing resources for every step of your sales campaign and automating cold outreach from start to finish. The actual price of the tool SalesBlink is $1788.00 but AppSumo offers it in a deal for low price $59 which will be a lifetime offer for a limited period of time.