Tami Nadu Lockdown Due to Rise in Coronavirus Cases: The Tamil Nadu State Assembly election was held over on 6th April 2021. Following that, the state now imposed new lockdown guidelines due to increase in Covid-19 cases. The Government has applied several restrictions to people from 10th April 2021.
As per the new guidelines, the state Government has ruled out night curfew and also put a ban on Temple festivals and Religious events. 50% seats in malls and cinema theatres and offices will run as usual and all the eligible candidate are advised to be vaccinated as soon as possible to prevent spread of such a deadly disease Covid-19.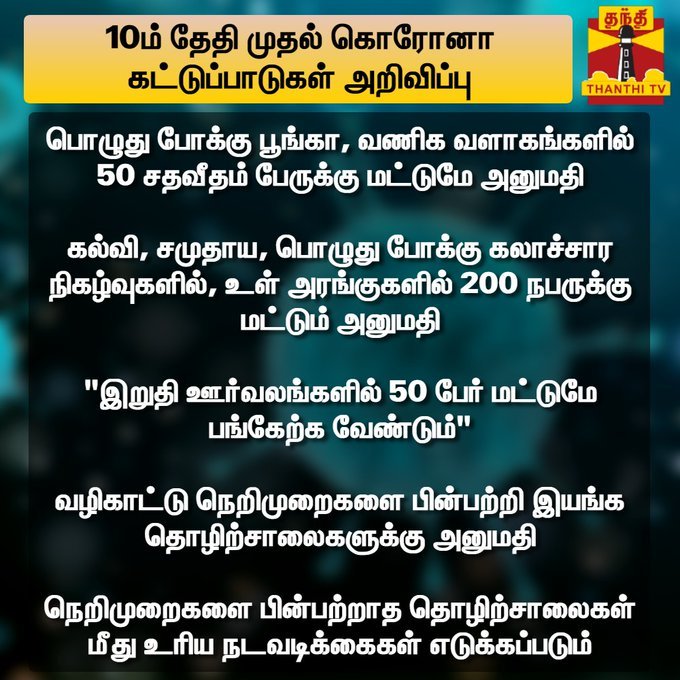 TN Lockdown Rules & Regulations
Only 50% seats allowed in hotels and tea shop.
Banned Temple festivals & Religious events
Audience are not allowed in Playground and IPL matches will be conducted as per the schedule without audience in Chennai.
Offices can run but officers are asked to take vaccines seriously.
Only 50% people are allowed in recreation clubs, entertainment & amusement parks, zoological parks, museums, cinema theatres in multiplex and shopping malls.
Only 100 persons allowed to attend wedding functions and 50 persons for funeral processions.
Only 200 persons allowed in social, political, educational, entertainment, sports and cultural events.
Standing passengers in inter-state buses operated to Puducherry, Andhra Pradesh and Karnataka not allowed
Exhibition halls will be allowed only for business to business events.
TV serial and film shooting allowed, but the management should ensure that all participants have undergone RT-PCR tests
Tamil Nadu is facing a very bad situation in Covid-19 crisis. Cases are increasing day by day. People are always asked to wear a mask and sanitize their hands when they go out and came back. It is advisable for all to take precautionary measures and be vaccinated as soon as possible.