Tamil Nadu Premier League (TNPL) Squad 2017: After the Chennai Super Kings (CSK) suspension, the Tamil Nadu state was recognised with the new T20 cricket tournament. It is Tamil Nadu Premier League, shortly termed as TNPL. This new league was formed in 2016 and the second edition of the tournament is scheduled to begin from July 22 to August 20 of this year. Totally, 32 matches have the fixture in this second version of TNPL. People of Tamil Nadu and the fans can watch this match on Star Sports 1 Tamil.
Whereas, the most of the matches will be hosted by the India Cements Company Ground in Tirunelveli will host 13 matches. Then, NPR College Ground in Dindigul has to play 11 matches. In the least, MA Chidambaram Stadium in Chennai will host eight matches.
So, the officials had just declared the list of TNPL all team squads and the players list. Totally, eight teams will be going to face each other in this tournament.
Albert TUTI Patriots, Chepauk Super Gillies, Lyca Kovai Kings, Madurai Super Giant, Dindigul Dragons, VB Thiruvallur Veerans, Karaikudi Kaalai, and Ruby Trichy Warriors.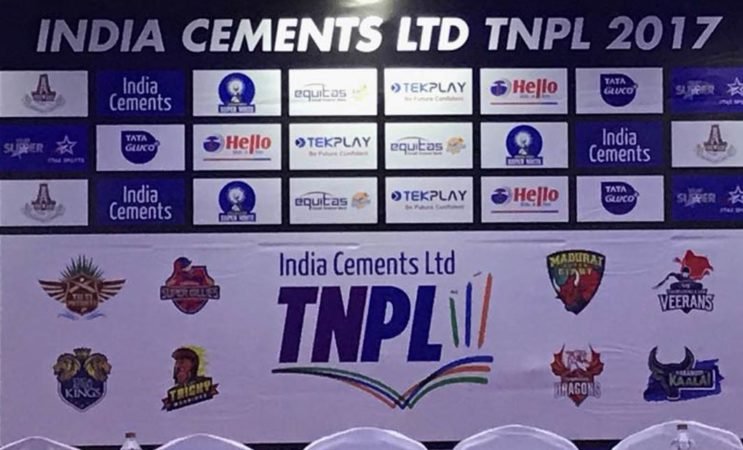 TNPL 2017 All Team Squads & Players List
TUTI Patriots Team Squad in TNPL 2017: Maaruthi Raghav, V Athisayaraj Davidson, Dinesh Karthik (C), Washington Sundar, Aswin Crist, Abhinav Mukund, Aushik Srinivas, Kaushik Gandhi, Lakshmipathy Balaji, Subramanian Anand, Akash Sumra, R Sathyanarayan, Umashankar Sushil, M Ganesh Moorthi, R Vishaal, Siddarth Ahuja, V Lakshman, SP Nathan, G Nicul Anand
Chepauk Super Gillies Team Players List: Rajagopal Sathish (C), Yo Mahesh, Thalaivan Sargunam, Antony Dhas, Gopinath, Ravisrinivasan Sai Kishore, Uthirasamy Sasidev, Joel Joseph, Dakshinamoorthy Kumaran, R Alexander, Sathiamoorty Saravanan, Baskaran Rahul, Ashwath Mukumthan, S Karthik, Aditya Barooah, Jothimani Gowjith Subhash, Arun Kumar, Rangaraj Suthesh, S Radhakrishnan
Lyca Kovai Kings Team Squads: JS Mohammad (C), M Siddharth, Pradosh Ranjan Paul, Manish Ravi, K Deeban Lingesh, Murali Vijay, M Mohammed, L Suryaprakash, Vijay Shankar, MK Sivakumar, Ravi Kumar Rohith, Krishnamoorthy Vignesh, B Anirudh Sita Ram, S Ajith Ram, S Harish Kumar, Akshay Srinivasan, B Arun, S Tarun Srinivas, K Gowtham Thamarai Kannan, Ranjan Paul
Madurai Super Giant Team Players List: Arun Karthik (C), Sivagnanan Senthilnathan, PS Sivaramakrishnan, K Mani Bharathi, Murugan Ganesh, R Ajith, M Poiyamozhi, Suresh Kumar, P Francis Rokins, DT Chandrasekar, M Raja, Shijit Chandran, Lakshminarayanan Vignesh, Muruganantham, Palani Amarnath, Edward Kennedy, Shahrukh Khan, R Karthikeyan, D Prashanth Prabhu
Dindigul Dragons Team Squad: Subramania Siva (C), S Kishan Kumar, Ravichandran Ashwin, Murugan Ashwin, T Natarajan, MS Sanjay, N Jagadeesan, Ganga Sridhar Raju, Sunny Kumar Singh, K Mukunth, Wilkins Victor,Ashwin Venkataraman, ME Yazh Arun Mozhi, S Abishiek, R Vivek, Adithya Arun, M Silambarasan, S Dinesh
VB Thiruvallur Veerans Team Players List: Baba Aparajith (C), Vignesh, R Rajan, RD Ashwin Kumar, Hari Nishanth, Abhishek Tamrakar , Rahil Shah, R Kavin, NS Chaturved, Malolan Rangarajan, Ramalingam Rohit, Jaganath Sinivas, Sanjay Yadav, S Arun, Lakshmi Narayanan, Silambarasan, U Mukilesh, Samuel, Anand Rajan, S Siddharth
Karaikudi Kaalai Team Squad: S Badrinath (C), Varun Chakravathi, Shikhar Hukku, Srikkanth Anirudha, Aashish Srikrishnan, Nivethan Radhakrishnan, Sunil Sam, Suresh Babu, S Lokeshwar, Chandrasekar Ganapathy, Shoaib Md Khan, K Vishal Vaidhya, R Sonu Yadav, R Rajkumar, S Mohan Prasath, M Vijay Kumar, Rajhamany Srinivasan, M Shajahan, Trilok Nag
Ruby Trichy Warriors Team Players List: Baba Indrajith (C), Kannan Vignesh, N Prashid Akash, M Monokaran, RS Mokit Hariharan, J Jabez Moses, Jagatheesan Kousik, Rajamani Jesuraj, Bharath Shankar, Alagh Prathiban, Krishna Varun Kumar, Murthy Prabhu, Jagannathan Kaushik, Adithya Ganesh, Nilesh Subramanian, Akkil Srinaath, Anthony Mannays, B Aditya, Adhithya Giridhar
Highlight: In this TNPL tournament, totally 88 players signed from the outside of Tamil Nadu including Yusuf Pathan, Suresh Raina, Piyush Chawla, Rahul Tripathi, Sanju Samson and others. But, no one will get chance ot to play in this TNPL second edition in this 2017.
The opening and closing ceremony updates will be available here. Also, stay tune to get the full TNPL 2017 Schedule PDF on this site.