AppSumo Crello: AppSumo offers most of the useful software tools in deal every week. Using this opportunity any entrepreneur, small organization, and freelancers can develop their business. Likewise, Crello is a tool that is in the deal available this week in AppSumo.
Crello Pro is an easy-to-use online design editor with thousands of ready-made, customizable templates and millions of high-quality photos, videos, and designs. This tool helps to create a steady stream of posts, ads, and other content without sacrificing design quality.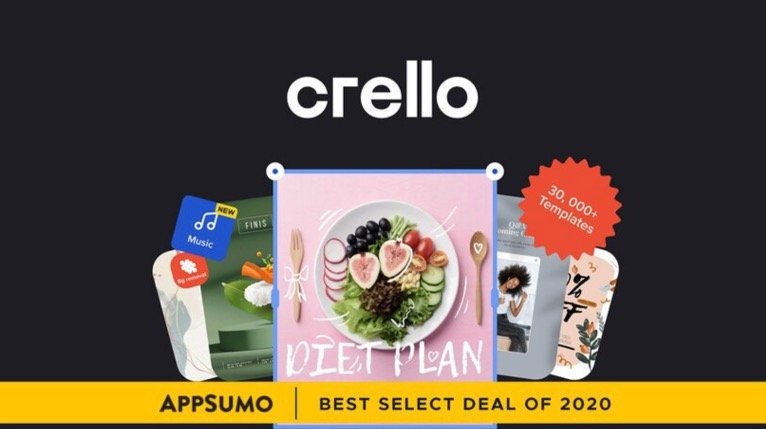 With Crello Pro, you can easily start your design by selecting from one of 60+ template formats. You can create original content for your social media feeds, website, and all other branding and marketing assets from 30000 templates which is available for all occasions.
Crello Features
Crello Pro lets anyone tap into their inner graphic designer. You can Use one-click tools to choose fonts, edit text, and even customize the appearance of the text box. Also, you can Choose from over 250 fonts and customize by size, line height, spacing, color, and more. The main features of the tool Crello includes
Enjoy one-click editing tools: text edit, resize, photo effects, crop, fade, and contrast
Access 30,000 ready-made professional design templates in 60+ formats, millions of premium photos, and eye-catching animations
This tool suits best for Marketers and content teams who want a professional, fast-moving design tool without a steep learning curve. Also, it will be best alternative to Canva.
Crello lets you customize without borders so that you can tweak existing templates or create your own from scratch. The online editor is packed with simplified editing tools and features from where you can Find the best option among millions of photos within Crello's built-in media library.
Crello's animation tools let you create dynamic ads, social media posts, and other graphics. You can even make multi-page animations and add animated text to your designs. Crello Pro lets you add beautiful animated graphics to make your content come alive.
Crello Pricing
Crello's simple toolkit makes it easy to add text, animations, and graphics to your video ads and put music tracks over them. Crello Pro makes it easy to be proud of the content your business publishes every day.
From graphics to video, you can design professional content that looks stunning across all your customer touchpoints using this tool Crello. The actual price of Crello is $300.00, but AppSumo offers it in a deal for $49 which will be a lifetime offer for a limited period of time.