Appsumo Gurucan: AppSumo offers most of the useful software tools in deal every week. Using this opportunity any entrepreneur, small organization, and freelancers can develop their business. Likewise, Gurucan is a tool that is in the deal available this week in AppSumo.
Gurucan is a mobile-first, all-in-one platform to create online courses and memberships while running marketing automation, webinars, and more. Genrally, you've got one tool for webinars, another to build landing pages, and still another for creating a mobile app. To overcome this, here comes the tool Gurucan which helps to Create, promote, and sell online courses with a mobile-first, five-in-one platform.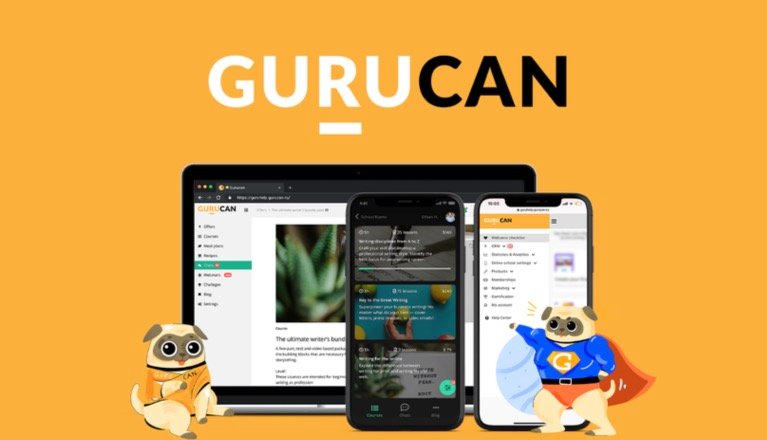 Gurucan lets you step into the 21st century with a modern, branded iOS or Android mobile app that gives your students and members an easy way to engage anywhere, anytime. You can style your custom app with your branding by selecting a design and uploading a logo to provide a seamless branded experience.
Gurucan Features
With Gurucan, you can Create stunning online courses with any kind of content on a platform that looks good on both mobile and desktop. You'll be able to create video lessons, scheduled challenges, training, and drip courses for any medium, from text and digital downloads to podcasts and webinars. The main features of Gurucan include
Create stunning online courses, challenges, or memberships with the ability to customize a branded mobile app
Promote your business and keep customers engaged with powerful marketing automation, pipelines, and push notification broadcasts
This tool Gurucan suits best for Content creators, community builders, and coaches who want to provide an excellent learning experience with one tool. Also this will be the best alternative to Kajabi, Thinkific, and Mighty Networks.
With this tool Gurucan, you can keep users engaged with built-in quizzes, reports, and chats, and then track their activity and homework, motivating them to finish that course and achieve their goal. You can Build powerful, customized marketing automation and sales pipelines with Gurucan's easy-to-use visual builder.
You can Build and monetize your community of engaged, active users through a variety of channels, like subscriptions, group chats, challenges, and more. You'll be able to customize your membership options as you build multiple pricing plans for different tiers of content and run free trials.
Gurucan Pricing
One can Use Gurucan's built-in tools or connect to your favorite tools with integrations for PayPal, Vimeo, YouTube, and more. Thus, the tool Gurucan is a new way to create, customize, and monetize your online program with marketing and mobile built-in. The actual price of the tool Gurucan is $648.00, but AppSumo offers it in a deal for low price $79 which will be a lifetime offer for a limited period of time.