Appsumo Be.Live Review & Price: AppSumo offers most of the useful software tools in deal every week. Using this opportunity any entrepreneur, small organization, and freelancers can develop their business. Likewise, Be.Live is a tool that is in the deal available this week in AppSumo.
Be.Live is a livestreaming studio that allows you to create beautiful livestreams and repurpose them into shorter videos and podcasts. With this tool, you could set up livestreams in no time while repurposing that content like a pro. You can Amplify your reach with branded livestreams you can repurpose anywhere.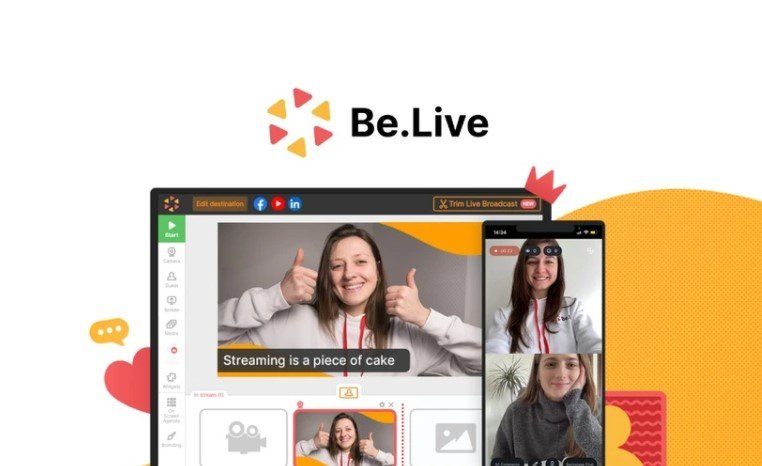 With this tool,you can Easily invite guests to your stream with a permanent guest link or get a unique, secure link for each stream. You can Share your permanent guest link with trusted guests and recurring talent on your show so they can hop on quickly.
Be.Live Features
With Be.Live, you can have up to 10 guests waiting in the Staging Area and feature up to four people on screen. Here Keeping viewers engaged can be more challenging. The main feature of the tool Be.Live include
Host live talk shows and invite up to four guests on screen with a unique, secure link
Stand out from other streams with limitless customization options
This tool Appsumo Be.Live suits best for Coaches, hosts, infopreneurs, and influencers who want to consistently produce and repurpose video content. Also, this will be the best alernative tool to Streamyard.
With this tool Be.Live, you can use different types of media in your stream and share your screen to do walk-throughs. You can Use images, videos, presentations, and more. You can also Customize your stream to keep viewers excited along the way. You can use Be.Live to easily identify clips you can repurpose into shorter videos and podcasts with the option to publish directly to social.
Be.Live makes it easy to add an overlay or frame that matches your brand, logo, and colors to help create a seamless viewer experience. You can Catch your viewers' attention by highlighting their comments on the screen. You can also create a virtual background without the need for a green screen.
You can Go live anytime from anywhere with Be.Live's mobile studio app, which offers everything you love from the platform. With the app, you can simultaneously stream to up to five destinations and invite guests for a split-screen interview. Thus, you can take advantage of everything Be.Live offers on-the-go with the mobile app.
Also Read: Appsumo Crikle Price, Review & Check Appsumo Lifetime Deals
Be.Live Pricing
Tus, the tool Be.Live makes it simple for you to give your audience what they want with a customized livestream and comprehensive mobile app for sleek streaming anywhere. The actual price of the tool Be.Live is $699.00 but AppSumo offers it in a deal for low price $59 which will be a lifetime offer for a limited period of time.