KWFinder Review, Discount: One of the most difficult scenarios every blogger and business owner faces every day in their life are keyword research which is a crucial part of the Online business. It doesn't matter if you need keywords and their analysis for blogging and SEO or CPC based ads, You definitely need to go deeper to find best long tail keywords for your business. Sometimes, it takes loads of your time as well as your computer resources.
What if there is a web based tool which gives you a list of suggested keywords as well as questions with its keyword difficulty scores and stats of the top 10 websites that are ranking for that keyword? Yes, it exists, here comes KWFinder tool. I tried my best and to write KWFinder review after using it for the past few days.
What is KWFinder?
KWFinder, as name states this is a KeyWord Finder tool to gather a list of related keywords and long tail keywords to target your blog posts and campaigns. If you are already doing Digital Marketing or Blogging, you may know the importance of finding a potential keyword and how time-consuming the process is.
To save our time and to find hidden SEO keywords, here comes a handy cloud based software for keyword research – KWFinder. This is a paid tool, but still, the company offers a free trial for all the users to test their tool and its features.
KWFinder Demo
Here is how KWFinder looks like,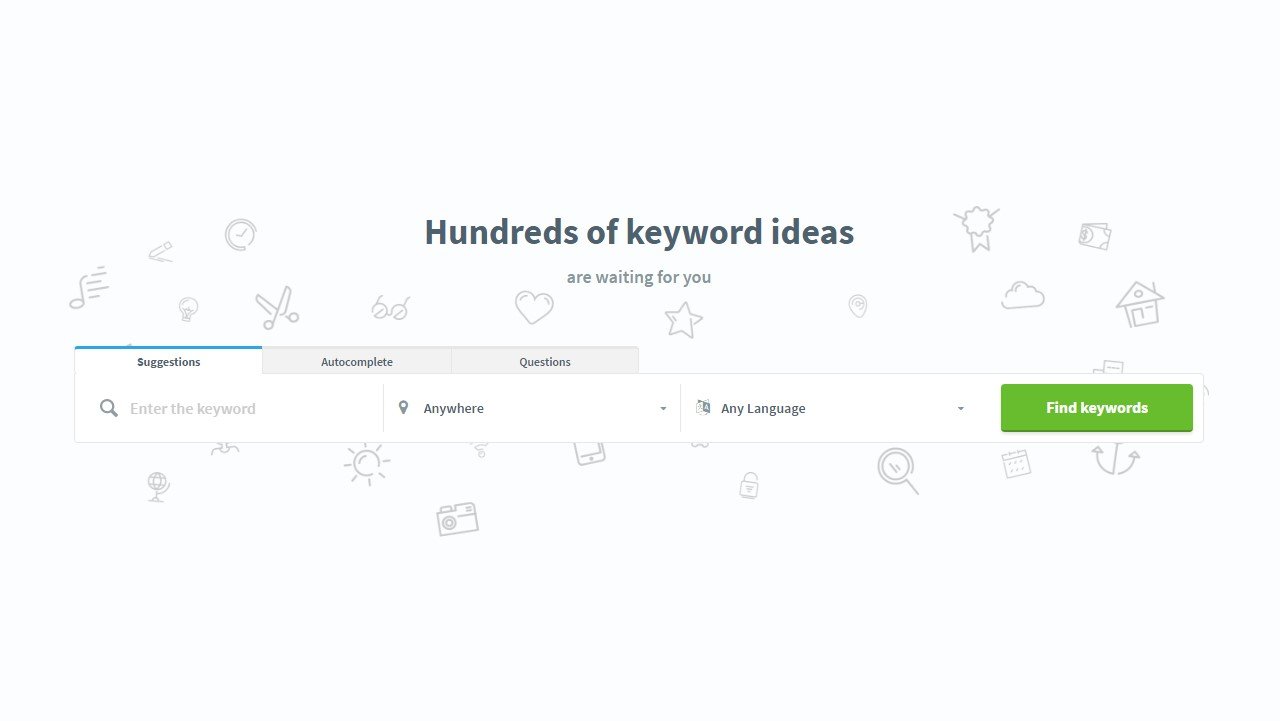 There is no complicated process here, you just need to enter your seed keyword (main keyword), select a country if you are targeting country based and select language and hit on the "Find Keywords" button.
The tool is a web based (Cloud), so no need to install this on your computer or laptop. You just need to log in from your browser and it splits the screen into 2, left screen shows alternate keywords and long tail keywords with search volume and CPC. When you click on the "Diff" icon, it will show the difficulty score of that particular keyword and instantly top 10 search result along with metrics like DA< PA, TF< CF, Social signal scores will be displayed on the right side screen.
How to Calculate Keyword Difficulty Score in KWFinder?
Here is a simple way to analyze a keyword and know if it is easy or difficult to rank based on its Keyword Difficulty score,
If Keyword Difficulty score is,
0 to 9 -> Go for it as it is simple to rank
10 -19 -> Super easy to rank keyword
20 – 29 -> easy to rank keyword
30 – 39 -> not hard, but you need to focus on content and backlinks
40 – 54 -> possible, but you need to spend $ on getting quality backlinks with outstanding article
55 – 74 -> Hard, takes more time and money
75 – 89 -> Super Hard, better not to give a try on such keywords as it will waste your time
90 – 100 -> don't do it, merely impossible if you are not a big brand on the internet.
SERP Competition analysis is a big part while calculating difficultness of a keyword. It is a most time-consuming task as well. With the help of KWFinder, it can be achieved in a fraction of second as the tool fetches all these details. Based on the top 10 SERP results DA, PA, TF, CF and social signals, KWFinder has a unique algorithm to evaluate the difficulty level of a keyword.
I have personally used the Long tail Keyword tool, Semrush, SEO Cockpit and Ahrefs. Their keyword difficulty competition never worked best to me as I failed to rank many keywords as these tools showed wrong stats to me. But KWFinder is a step ahead of this and never disappointed me in difficulty analysis part. Of course, no tool can show accurate difficulty level, as it has to be calculated with our common sense. But I am personally happy with KWFinder as they can save 95% of my work in calculating difficulty score of a keyword to get me idea instantly to go for that keyword or not.
KWFinder – SERPChecker
Wait, KWFidner is not only a keyword research tool. Additionally, Mangools offers SerpChecker tool which shows Top results in Google as well as these websites detailed metrics.
The result can be exported and downloaded for later use. List of metrics involved in SerpChecker are,
Domain Authority
Page Authority
Moz Rank
Moz Trust Score
Links
External Links
Trust Flow
Citation Flow
Referring Domains
Referring IPs
Social Metrics
This feature is most helpful for bloggers and SEO marketers. Rankings and Google SERP results can be also checked from Mobile by selecting Mobile as a device.
KWFinder – SERPWatcher
SERPWatcher is an another awesome tool included in the Mangools package. This allows us to track our website rankings for various keywords. Changes in the rankings can be monitored quite easily, very useful feature for bloggers and digital marketers.
The thing to note down is, we can add unlimited domains to track, just limited with the number of keywords based on the various pricing plans. If you have more clients and working on their websites, you can add list the domain name of your client and list of keywords you want to track for.
Overall, Mangools offers a complete tool for SEO analysts, Bloggers, Digital Marketers. Here is what it can do,
Find related and long tail keywords with KWFinder
Analyze Google SERP Top results with SERPChecker
Track your website rankings with SERPWatcher


All these features for just a very low price is a good steal for sure. Surprising how much Mangools package (KWFinder, SERPChecker, SERPWatcher) costs and looking to know more about their features, payment plans? Check below,
KWFinder Price (Check Below for Coupon Code)
Mangools offers 3 different plans with 2 different payment options.
KWFinder Monthly Payment Plan
KWFinder Annual Payment Plan
If you are a full-time blogger, KWFinder Premium plan works great for you as they allow 500 searches per day with each search coming up with 700 related keywords.
For my readers, I have a special KWFinder Coupon code. You will get an additional 10% discount if you buy from our website.
If you have any questions, comment below as I can help you to solve any queries regarding KWFidner keyword research tool. From my experience, without any doubt, this is a complete and number 1 keyword research tool with various features. Also, the price of this cloud based keyword tool is very affordable when comparing Ahrefs, Long tail Keyword tool, SEO Cockpit, and Semrush.