MIL vs UTA: In NBA Pre-Season 2019, the basketball teams Milwaukee Bucks and Utah Jazz play against each other today. The game will kick start at 05:30 AM IST on 10th October 2019. The venue of the match is at Fiserv Forum, in downtown Milwaukee, Wisconsin. Sony Sports Network has the rights to stream NBA Pre-season 2019 in India.
This will be the first game for Utah Jazz in this pre-season. Milwaukee Bucks opened their pre-season campaign away at Chicago Bulls, beating the home team 112-122 at United Center, and doing so without a host of superstars. Hence in this game MIL vs UTA, it is predicted that Milwaukee Bucks will win against Utah Jazz.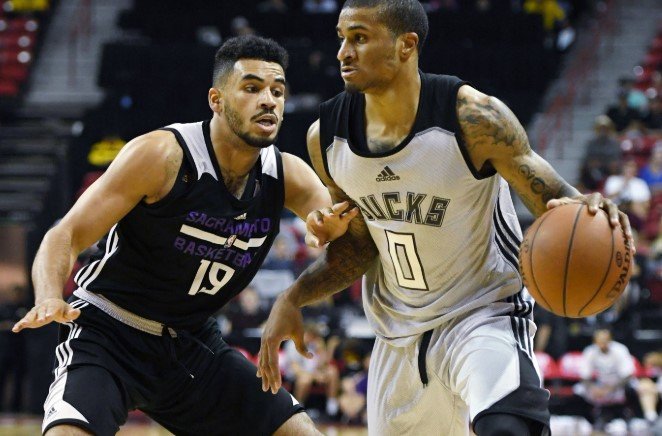 MIL vs UTA Team News
D.J. Wilson remains out due to a hamstring issue for Milwaukee Bucks. Jazz has some injury issues ahead of this game and they could be without a number of key players. Emmanuel Mudiay has been ruled out due to a thigh problem. He won't feature here. Dante Exum has been ruled as well from this match as he is recovering from a knee injury.
MIL vs UTA Probable Lineup
Milwaukee Bucks: Sterling Brown, Brook Lopez, Robin Lopez, Frank Mason III, Wesley Matthews
Utah Jazz: Joe Ingles, Mike Conley, Donovan Mitchell, Bojan Bogdanovic, Rudy Gobert
MIL vs UTA From Bench
Milwaukee Bucks: Thanasis Antetokounmpo, Dante DiVincenzo, Dragan bender, Cameron Reynolds, Jaylen Adams, Pat Connaughton, Rayjon Tucker, Luke Maye
Utah Jazz: Ed Davis, Dante Exum, Jeff Green, William Howard, Stanton Kidd, Juwan Morgan, Trevor Bluiett, Tony Bradley, Jarrell Brantley, Georges Niang, Royce O'Neale, Miye Oni, Nigel Williams-Goss, Justin Wright-Foreman
MIL vs UTA Team Squads
Milwaukee Bucks Team: Giannis Antetokounmpo, Thanasis Antetokounmpo, Pat Connaughton, Donte DiVincenzo, George Hill, Jaylen Adams, Sterling Brown, Ersan İlyasova, Kyle Korver, Brook Lopez, Dragan Bender, Eric Bledsoe, Robin Lopez, Frank Mason, Wesley Matthews, Luke Maye, Khris Middleton, Cam Reynolds, Reyjon Tucker, D. J. Wilson
Utah Jazz Team: Trevor Bluiett, Bojan Bogdanovic, Tony Bradley, Jarrell Brantley, Mike Conley, Ed Davis, Dante Exum, Rudy Gobert, Jeff Green, William Howard, Joe Ingles, Stanton Kidd, Donovan Mitchell, Juwan Morgan, Emmanuel Mudiay, Georges Niang, Royce O'Neale, Miye Oni, Nigel Williams-Goss, Justin Wright-Foreman