Rangoon Tamil Movie Review: Rangoon is an upcoming Tamil action crime drama starring growing actor Gautham Karthik in the lead role. The film was directed by Rajkumar Periasamy and produced by AR Murugadoss. The film director was the associate of AR Murugadoss. Anish Tharun Kumar was worked as a cinematographer.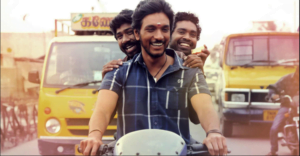 In this film, we saw a different Gautham look like as a real Chennai boy, and he spoke local Chennai language for this movie. So, this movie was imperative in Gautham's career. It was hit the screen and make a box office hit.
Cast & Crew:
While, Sana Makbut, Lallu, Siddique, Daniel Annie Pope plays the other roles. Vikram RH composes the film's music and the background music was composed by Vishal Chandrasekhar.The folk song was already hit all over Tamilnadu.The film shooting was mostly taken at Chennai, and the remaining parts are made in Myanmar.
Rangoon Movie Story Plot:
This movie cannot contain a regular story like other films. The story revolved around three friends who are all doing small business in Chennai. They enjoyed every moment very happily and at that time Gautham fall in love with Sana. With his business and love, he is happier, but that happiness turns into a tragedy when they caught for exporting illegal gold to Burma. What happened next? Do you want an answer, go and watch the remain story in a theatre.
The romance between Gautham and Sana was lovely. Sana plays her role good, and she looks more cute with her expressions. Lallu plays an important role and other characters also doing well their roles.
The illegal exports from India to Burma was different, and we never saw the Burmese community in Chennai. This film was all set worth to watch.
Rangoon Movie Rating:
The film got 3.5 rating out of 5
Audience Response:
From audience side Gautham Karthick acting, story, screenplay and the Bgm everything was good.
The movie is released on June 9th, 2017. Stay tuned for more updates.